Indoor LED Digital Displays
Display Stunning Visuals. Increase Engagement Using an Indoor LED Screen.
Captivate your users with a high-definition, full-color indoor LED video wall. Showcase your products, stream videos, and make the awareness-to-purchase process easy.
At UnilightLED, we help you put your best foot forward by engaging your viewers in every way. With pixel pitches ranging from 4mm to 10mm, you can blow up your indoor LED display as much as you want while still retaining incredibly rich color and brightness.
You can use our indoor LED screens wherever you want, from sales galleries and hotel ballrooms to building lobbies, churches, universities, and even schools. Nothing is too much for our indoor LED displays.
Looking for an indoor LED display to display advertisements and catch the attention of passersby?
Full-color Depth
Create dazzling experiences with over 16 million total colors.
High-grade Components
Work with components that will never give up on you early.
24/7 Customer Service
Our people are just a call or message away. Reach out anytime.
Best Pixel Pitch on the Market
Lengthen your optimal viewing distance and enhance visual quality with our best-on-the-market pixel pitch.
Pixel pitch is the density of pixels on your screen. Our indoor LED screens come in 4mm to 10mm pixel pitches, and the smaller the pixel pitch, the higher the resolution. It also influences viewing distance.
You can use an LED screen with a smaller pitch in lobbies, conference rooms, and closed spaces. Screens with higher pitches should be used in places where they will be viewed from afar.

Pull Images into Reality with Full-color Depth
Make watching visual media as appealing and easy as possible with our full-color screens.
Full-color depth determines the visual quality of your screen. The more colors your screen displays, the better gradients, shadows, and transparencies it will produce. It will make your visual media pop and look even more striking, catching the wandering attention of your users.
Our indoor LED screens come with 16- to 24-bit color, so better resolution and clearer images are never a problem. Plus, higher color depths are less heavy on the eyes, which helps you turn your viewers' heads and keep them turned.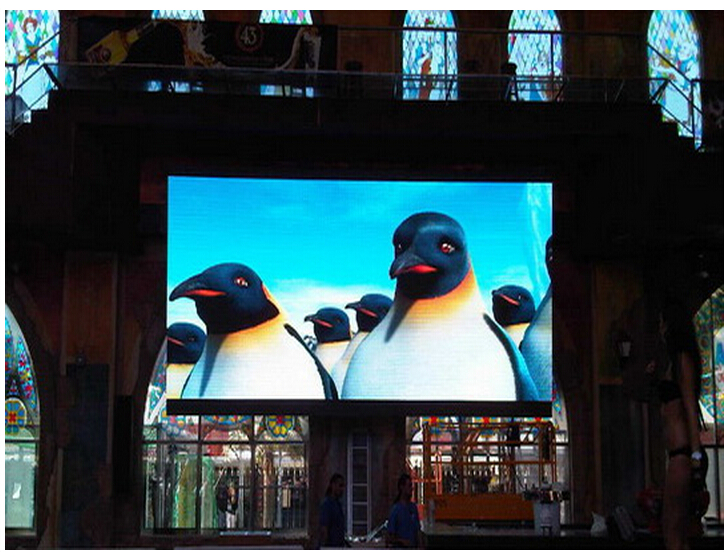 Create Deeper Visuals with Dynamic High Contrast
Create mystery, make depths deeper and rises lighter with high dynamic contrast.
Dynamic high contrast reduces and enhances colors used in your videos and images. It darkens the blacks and lightens the whites to create striking images that are attractive and easy on the eyes.
Visual media with high contrast can engage visually-impaired users and those struggling with eye problems, creating a smoother experience and generating new leads.
Become Worry-free with a High Refresh Rate
Make conveying information smoother, quicker, and sleeker with a high refresh rate.
Visual content is made of individual frames shown in sequence very quickly. The refresh rate dictates how often each frame can change.
Our screens come with a refresh rate of 3000 and above, meaning each frame can be displayed up to 3000 times every second. It makes videos smoother, reduces motion blur, tones down jerkiness, and helps images appear sharper.
Increase Uptime with On-hand Backups
Captivate customers with always-on displays. Never interrupt the viewing experience.
Uptime is the measure of how long your screen stays active. Indoor LED screens with backups can get back up in a jiffy when a component goes on vacation. They never interrupt your viewing experience.
Our indoor LED displays come with on-hand backups with backup chips that make sure you always get the best and least interrupted viewing experience.
Display Everything on High-grade Components
Stream detail-heavy content without losing quality on our best-in-class indoor LED screens.
No display can run miles without having the right support. Our display-everything indoor LED screens use the highest-rated components to make your streaming and viewing experience as smooth as possible.
Never experience shortages, battery, system, or resolution problems with our indoor LED screens.
Stores



From displaying images and videos to real-time social media user reactions, indoor LED screens can be features of attention in stores. They can catch the attention of passersby, attracting potential users and turning them into leads.
Indoor LED screens can also increase exposure, create brand awareness, explain how to use products, describe what consumers will get by buying into the service, and more. They can be found mounted on walls, columns, and across the ceiling.
Entertainment Venues
Indoor LED screens are the blood of bars, casinos, and nightclubs. They offer a window into the place's offerings, distract customers when they've thrown a card, entice viewers with deals, show exclusive content, and add to the mood on the dance stage.
Since customer attention equals money, indoor LEDs can help entertainment venues grab and hold the attention of their customers by presenting high-quality and smooth pictures, ensuring returns on everything.
LED displays are usually mounted on DJ booths, stage backgrounds, floors, columns, stairs, and bars.
Restaurants
Restaurants use indoor LED screens to capture the attention of current and potential customers, present answers to common questions, reconnect with former visitors, and dynamically portray their brands.
LED screens can also visually describe the menu and prices, helping your customers take less time to decide and order what they want. You can also easily update them if changes are made to the menu.
These displays can be mounted on passageway walls, outward-facing walls, above the serving station, behind the serving station, and on any other walls.
Hotel Lobbies and Resorts
Hotels can enhance the guest experience by using an indoor LED screen. These displays can help guests navigate through the hotel, allowing them to quickly reach their destination. They can be installed in reception areas, as decorative elements in lobbies, and on walls.
Indoor LED screens eliminate the need to print paper signs, allow hotels to update changes constantly, and broadcast news or weather reports to guests. They also help to make a spectacular visual statement, helping hotels express their brand.
Stadiums
Indoor LED screens can be used in covered or indoor stadiums to show match scores and visual broadcasts. They help people in faraway seats to see the action taking place on the grass.
These displays can be used to display information about teams and players, display spirited messages to the audience, or showcase in-game entertainment or fan videos, helping everyone in the stadium feel part of the event.
Concerts
Most people at concerts are too far away to see their idols as closely as they want to. Indoor LED screens bring the audience closer and deliver a front-row viewing experience to viewers sitting in every bend and corner of the concert hall.
They can also be used to display giant murals to match the dance movements of performers on the stage, creating a riveting experience and helping everyone feel part of the event. Indoor LED displays can be mounted at the back and sides of the stage.
Churches
Thousands of people attend church every week. Indoor LED screens can be used to create dazzling experiences for congregations, include those even in the farthest rows, and make worship displays more interactive without looking out of place.
LED displays help churches catch and hold the attention of their congregation, reach every parishioner who comes to receive the word of God and allow you to spread your message to every congregation member with visual or hearing losses.
Hospitals
Indoor LED screens in hospitals can display appointment times, lead to shorter waiting times, convey important health and lifestyle information messages, publicize medical services, and keep the hospital staff informed about day-to-day happenings.
These displays can also be used in patient rooms to display vitals and in the OR during complex surgeries to assist surgeons.
Schools
Using Indoor LED screens can help schools save money spent on paper printing, better present information and data, and motivate students to complete their tasks. They can help schools directly connect with their students without needing to rely on any other person.
These screens also allow schools to create a positive impression on their students and present themselves as modern institutions.
Universities
Indoor LED screens can help universities advertise the accomplishments of their students, convey information about programs, upcoming events, and agendas, engage learners of all ages, and communicate campus updates in real time.
When mounted on walls in auditoriums, indoor LED screens can help professors reach every student in their class, allow students to understand what is written on the board, and ensure students have access to navigational tools to reach their desired destinations.