Are you tired of traditional advertising methods that fail to capture attention and generate sales? Say goodbye to dull and static displays that go unnoticed. Unilight LED presents the future of advertising with our state-of-the-art LED poster display. Experience a captivating and dynamic way to showcase your brand, products, and promotions. Stand out from the competition and create a lasting impact on your target audience.
Why Our LED Poster Display is Unique?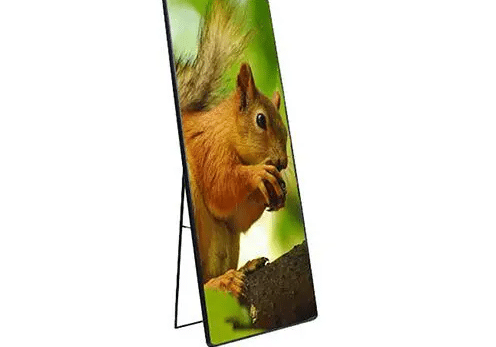 Slim and Stylish Design
Experience the slim and modern aesthetics of our LED poster display. It boasts an ultra-thin profile with a sleek and stylish design, measuring just 45mm thick. The P3 smart LED poster delivers stunning visuals and adds a touch of elegance to any environment
Superior Image Quality
Our LED poster screens are equipped with high-quality LEDs and Driving IC that ensure exceptional image quality. With a refresh rate of up to 2880Hz and a high contrast ratio of 5000:1, the display delivers vivid, lifelike visuals that captivate viewers.
Impressive Brightness
With a brightness level reaching 1000 Nits, our P3 smart LED poster guarantees a perfect display effect even in well-lit environments. Your content will shine bright and stand out, capturing the attention of passersby and leaving a lasting impression
Flexible Installation Options
With our LED poster display, you have the freedom to install it in various ways to suit your specific needs. Whether it's wall-mounted, hanging, or freestanding, the flexible installation options ensure seamless integration into any environment. Our P3 smart LED poster can be easily adapted to meet your installation requirements, regardless of layout or space constraints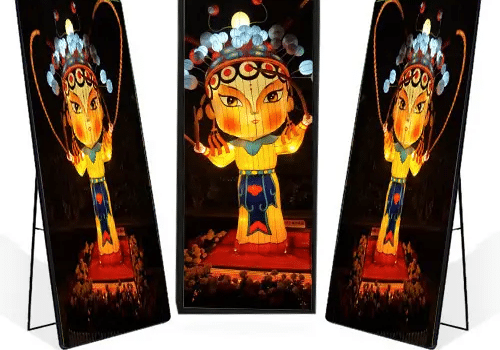 Stable Base-Standing Bracket
The P3 smart LED poster has a unique base-standing bracket that ensures stability on the ground. The sturdy frame keeps the display firmly in place, eliminating any concerns about toppling or instability.
Single and Multiple Units for Versatile Usage
The LED poster display can function both as a standalone screen or be combined with other units to create a larger LED screen. Whether you need a single screen for a specific location or multiple units for a grand display, our LED poster provides the versatility to meet your requirements.
Built-in Video Processor
With a built-in video processor, the P3 smart LED poster offers seamless playback of videos and images in various formats. Whether you're displaying 16:9 golden ratio content or HD 1080P content, our LED poster display ensures exceptional image quality and smooth playback.
USB or WiFi Support
Uploading content to your LED poster display has never been easier. With support for USB and WIFI connectivity, you have the flexibility to choose the most convenient method for content transfer. Simply plug in a USB drive or connect wirelessly, and your content will be ready to captivate your audience.
Industry Applications of LED Poster Display
Retail Stores
Capture shoppers' attention with vibrant advertisements that showcase your latest products and promotions. Our P3 smart LED Poster will transform your store into an immersive and engaging shopping experience.
Shopping Malls
Stand out in crowded malls with larger-than-life visuals that attract shoppers from every corner. Increase foot traffic and boost brand awareness with our LED poster designed for shopping malls.
Event Venues
Impact trade shows, conferences, and events with our outstanding LED display. Showcase your brand and offerings in a visually stunning way that leaves a lasting impression on attendees.
Hospitality and Entertainment
Enhance the guest experience and create a memorable atmosphere in hotels, restaurants, bars, and entertainment venues with our LED poster display. Whether it's promoting special offers or showcasing menu items, our displays will captivate your audience and drive engagement.
Healthcare Facilities
Enhance patient experience and communicate vital information effectively in healthcare facilities. The LED poster display can be used to display wayfinding, health tips, appointment reminders, and promotional messages, ensuring a seamless and engaging experience for patients and visitors.
Airports and Transportation Hubs
Reach a captive audience of travelers with dynamic and informative advertisements. Our LED poster ensures your message stands out in busy airport terminals and transportation hubs
Our LED Poster Display is designed for indoor use. However, we offer a range of outdoor LED display solutions specifically built for outdoor environments.
Yes! Our LED Poster Display management system allows you to control and manage multiple displays from a centralized platform, providing ease of use and convenience.
Our user-friendly management system lets you easily update and schedule content remotely, ensuring that your displays always showcase the latest information and promotions.
Request a Quote Today!
Transform your advertising campaigns with Unilight LED's cutting-edge LED poster display. Stand out, captivate, and generate results like never before. Contact us now for a personalized quote or to request a demo. Revolutionize your advertising with Unilight LED!